BP Oil Spill Cleanup: Is the Solution Now Part of the Problem?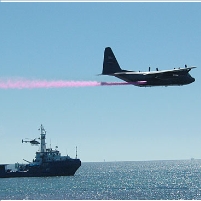 Considered the lesser of two evils by some environmentalists, the spraying of chemical dispersant into the Gulf of Mexico to break up the giant oil slick comes with its own risks and uncertainties for the environment.
So far, BP and the federal government have used more than 160,000 gallons of chemical dispersant in the sea to keep the crude oil from washing ashore along the Gulf coastline. Environmentalists have reluctantly gone along with the plan, believing it to be better than allowing the thick, toxic oil to inundate sensitive marshlands and other coastal habitat.
Some biologists worry what the long-term effects might be on the Gulf, both from the presence of the oil and the chemicals used to fight it.
The EPA also discovered Corexit was three times more deadly to silverfish, and two times more for shrimp, than Dispersit.
-Noel Brinkerhoff