Chertoff Joins Defense Firm that Defrauded U.S.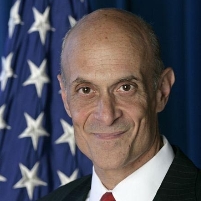 Michael Chertoff
Michael Chertoff, the former homeland security chief who's not been shy about exploiting terrorist threats for the benefit of his clients, has decided to join a top defense contractor that defrauded the U.S. government.
BAE is the eighth-largest contractor doing business with Washington, having received $7.1 billion in government contracts in 2009 alone. It also has received more than $200 million from DHS since 2005.
-Noel Brinkerhoff