Would You Recognize Osama bin Laden if You Saw Him?
Saturday, January 16, 2010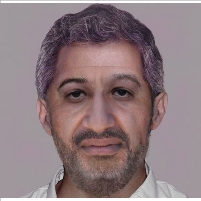 In case you happen to be wandering down the street, pass a tall, 50-something Middle Eastern gentleman sporting a long gray beard, and wonder, "Was that?…." the FBI has released age-enhanced photographs of Osama bin Laden to help the public recognize the still-most-wanted terrorist in the United States. Officials applied sophisticated digital enhancement techniques to existing mug shots of bin Laden, producing two different possible looks for the godfather of al-Qaeda.
One version shows him with his trademark long beard, only now it has a lot of gray whiskers. The second photo representation, in case bin Laden has gone for a whole new look, shows him without a turban, sporting wavy gray and black hair, and a trim beard.
The U.S. government says it's been more than eight years since it received a confirmed sighting of bin Laden. The reward for information on his whereabouts stands at $25 million.
-Noel Brinkerhoff