Ambassador to Hungary: Who is Eleni Tsakopoulos Kounalakis?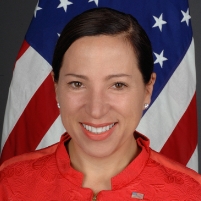 Sometimes a political contributor can give handsomely to the losing side and still come out a winner. Eleni Tsakopoulos Kounalakis is one such example. Daughter of a real estate tycoon and California political player, Tsakopoulos Kounalakis raised more than $1 million for Hillary Clinton during her 2008 primary battle with Barack Obama. But once Obama had all but locked up his party's nomination, the Greek-American millionaire switched camps and supported the man who now has made her ambassador to Hungary. She was sworn in on January 7, 2010.
Tsakopoulos Kounalakis, 43, was raised in the Pocket neighborhood of Sacramento, where her father, Angelo Tsakopoulos, built a successful real estate business. She earned her undergraduate degree from Dartmouth (1989) and an MBA from the University of California, Berkeley (1992), before going to work for her father's AKT Development Corporation in 1993.
As president of AKT, Tsakopoulos Kounalakis has overseen a land development company involved in real estate, farming, ranching, water and minerals projects throughout Northern and Central California. Her closeness to her father has extended beyond helping run the family business and into bankrolling statewide and national election campaigns.
Without the Tsakopouloses, Democrat Phil Angelides would have had a huge hole in his war chest for governor in 2006. A one-time business partner of Angelo Tsakopoulos, Angelides received nearly $5 million from the Tsakopoulses, including $1.25 million from Eleni. This largess was in addition to the more than $3 million Angelo Tsakopoulos contributed to Angelides' earlier campaigns for state treasurer.
They also have been generous philanthropists, giving $1.2 million to Georgetown University to establish a chair in Hellenic studies in 2006, along with endowments at other institutions.
Tsakopoulos-Kounalakis and her husband have two sons, Neo and Eon.
-Noel Brinkerhoff