23 Private College Presidents Earn More Than $1 Million
Tuesday, November 03, 2009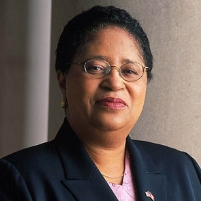 Shirley Ann jackson (photo: Mark McCarty)
Executive compensation hasn't just been going up on Wall Street. The salaries of private university presidents also have leaped this decade, during which the heads of some higher education institutions first eclipsed the $1 million mark. Only five years ago there were no college leaders making a seven-figure salary, but today there are 23.
Leading the way is Shirley Ann Jackson, former chair of the
Nuclear Regulatory Commission
and now president of Rensselaer Polytechnic Institute in Troy, New York, whose pay package totaled $1.6 million in fiscal year 2008. Other presidents at the top of the pay scale are David Sargent of Suffolk University in Boston ($1.5 million) and Steadman Upham of the University of Tulsa ($1.5 million).
Overall, the median pay for presidents of the 419 private colleges and universities surveyed by
The Chronicle of Higher Education
was $358,746—a 14% increase from what it was five years ago.
Jeffrey Selingo, editor of The Chronicle of Higher Education, told The New York Times that "presidential salaries have gone up faster than inflation, and faster than tuition, which rankles some people on campus."
-Noel Brinkerhoff