Women's World Cup Set TV Record…but Little Money Goes to Teams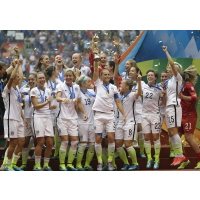 (photo: Elaine Thompson, AP)
The Women's World Cup pulled in some fantastic ratings, but they're not translating into a big payday for the winners.
First the ratings conquest: The Women's World Cup final between the U.S. and Japan drew a record U.S. audience for a soccer game—26.7 million viewers. That was more viewers than Game 7 of last year's World Series (23.5 million) or the last game of the NBA Finals (23.3 million). It also beat the 26.5 million U.S. viewers who watched the men's World Cup final last year in which Germany beat Argentina.
But the great television numbers will not be matched by the money going to the U.S. women's team, which will receive only $2 million for winning the title from FIFA, soccer's governing body.
Last year's victor of the World Cup, Germany, got $35 million. That team was composed of men, of course. The teams that lost in the first round got $8 million. The men's teams played for a total of $576 million in World Cup prizes last year.
The women played for a total of $15 million this year. The Washington Post pointed out that that was far less than the $27 million FIFA paid for "United Passions," a movie about the history of FIFA that made a mere $918 at the U.S. box office.
-Noel Brinkerhoff
To Learn More:
U.S. Women's World Cup Tops NBA, World Series in Ratings (by Gerry Smith and Mason Levinson, Bloomberg)
Women's World Cup Final Was Most-Watched Soccer Game in United States History (by Richard Sandomir, New York Times)
Why Hardly Anyone Sponsored The Most-Watched Soccer Match In U.S. History (by Drew Harwell, Washington Post)
There Is An Enormous Disparity In How Much Prize Money FIFA Pays In The Men's And Women's World Cups (by Cork Gaines, Business Insider)