Will Obama Proposal Finally Put an End to Taxpayer-Subsidized Sports Stadiums?
Wednesday, March 18, 2015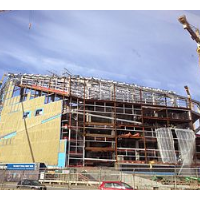 New Minneapolis Stadium, under construction (photo: Wikipedia)
Buried within President Barack Obama's budget plan is a provision that might make rich owners of sports teams dig into their own pockets, instead of those of taxpayers. The plan would end the use of taxpayer-backed bonds to help construct new stadiums and arenas to benefit team owners.
The tax-free bonds were first used to make it easier for cities and counties to finance important infrastructure projects, roads or bridges. But once franchise owners started threatening to leave communities if taxpayers didn't build them new sporting venues, lawmakers began using the special bonds to finance some of the enormous costs associated with stadium projects.
In some cases, the bonds have been proposed to absorb nearly 50% of a new stadium price tag. In Wisconsin, Republican Governor Scott Walker, who claims to be a fiscal conservative, wants the state to take out $220 million in bonds for a $470 million arena for the NBA Milwaukee Bucks, who are threatening to leave town.
Dennis Zimmerman, an economist formerly with the Congressional Budget Office and now director of projects for the American Tax Policy Institute, told the Pew Charitable Trusts, "I'm glad [Obama] put it in the budget. Tax-exempt bonds are supposed to be for state and local infrastructure" and not private business.
There's a real cost to taxpayers for lending money to team owners. A Bloomberg study showed that the tax-free bonds cost the U.S. Treasury $146 million a year in lost revenue. "Over the life of the $17 billion of exempt debt issued to build stadiums since 1986, the last of which matures in 2047, taxpayer subsidies to bondholders will total $4 billion," according to Bloomberg's Aaron Kuriloff and Darrell Preston.
Most taxpayers don't benefit from the construction of sports stadiums. After construction is complete, sports teams provide mostly temporary part-time jobs selling concessions and aren't the bonanza promised by owners. As one saying goes, if there were money to be made in building stadiums, the owners would build them themselves.
-Noel Brinkerhoff, Steve Straehley
To Learn More:
Is Obama Proposal the End of Taxpayer-Subsidized Sports Stadiums? (by Elaine S. Povich, Pew Charitable Trusts)
In Stadium Building Spree, U.S. Taxpayers Lose $4 Billion (by Aaron Kuriloff and Darrell Preston, Bloomberg)
Citizens Still Paying for Stadiums that have been Demolished (by Noel Brinkerhoff, AllGov)