Whistleblowers Expose Interior Dept. Diversion of Water Funds from Fish to Farmers and Ranchers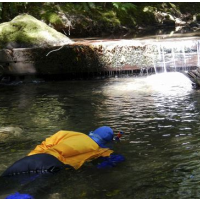 DFW researcher studies fish in Humboldt region of Klamath Basin (photo: CA. Dept. of Fish & Wildlife, AP)
The Department of the Interior has some explaining to do about money intended to provide water for fish but instead went to help farmers and ranchers, according to two government whistleblowers and a federal legal office that investigates those claims.
The Office of Special Counsel (OSC) has told Interior officials to investigate charges made by Bureau of Reclamation biologists Todd Pederson and Keith Schultz regarding a $48 million contract with the Klamath Water and Power Agency. The agency, which represents irrigators in the Klamath River Basin, was supposed to use some of the money to pay for a feasibility study examining the effects on fish and wildlife of farmers using groundwater instead of river water.
"We have concluded that there is a substantial likelihood that the information that you provided to OSC discloses a violation of law, rule or regulation; gross mismanagement; and a gross waste of funds," OSC attorney Siobhan Smith Bradley wrote in a letter (pdf) to Public Employees for Environmental Responsibility (PEER).
But the feasibility study was never completed, according to PEER, which has been helping Pederson and Schultz. Instead, the money was spent by the agency on office space, equipment, salaries and other expenditures. It was also used to pump groundwater to supply farmers during droughts until the wells ran dry.
PEER Senior Counsel Paula Dinerstein told The Washington Post that the money "became a kind of slush fund for this irrigation agency. It's not benefiting the fish or the wildlife."
-Noel Brinkerhoff
To Learn More:
Farmers Vs. Fish: Water War Heats Up With Probe Into Who Got Millions Of Dollars (by Lisa Rein, Washington Post)
Federal Probe into Klamath Irrigator Contracts Ordered (Public Employees for Environmental Responsibility)