Welfare for the Rich: U.S. Gives JPMorgan $14 Billion a Year in Subsidies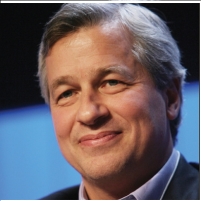 Welfare recipient Jamie Dimon of JPMorgan Chase
At the same time it has championed free-market capitalism, JPMorgan Chase has enjoyed the largesse of U.S. government subsidies—to the tune of $14 billion annually, the equivalent of 77% of its net profits over the past four quarters.
According to a Bloomberg editorial, JPMorgan has been a major beneficiary of corporate welfare. To calculate the sum, Bloomberg took into account the fact that any bank that is blessed with being considered "too big to fail," is able to borrow money at a lower rate than normal banks or human beings. This expectation of government support, using data from the International Monetary Fund, allows the big banks to cut 0.9% from their borrowing costs. For the nation's 18 largest banks, that's a savings of $76 billion, of which $14 billion go to JPMorgan Chase These subsidies have helped the bank pay large salaries and bonuses to employees. Even worse, it has distorted markets, "fueling crises such as the recent subprime-lending disaster and the sovereign-debt debacle that is now threatening to destroy the euro and sink the global economy."
The editors at Bloomberg argue that it's time to reduce the subsidy. The government should require JPMorgan's shareholders to provide "enough capital to make bailouts highly unlikely (20% of assets)." Washington also needs to allow some creditors to take hits when the bank or others get into trouble and stop bailing people out and making things whole, "so they won't assume they're safe" all the time.
-Noel Brinkerhoff, David Wallehcinsky
To Learn More: