Walmart Forces Employees to Buy New Uniforms…at Walmart
Friday, September 12, 2014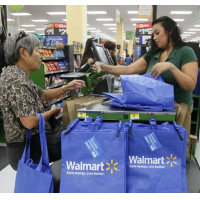 (photo: Nick Ut, AP)
Employees of Walmart are going through yet another uniform change, having been told by company officials to buy new clothes using their modest incomes. And when shopping for that apparel, making the purchase at Walmart stores wouldn't be such a bad idea, a senior executive suggested.
The new dress code mandates that workers don a collared blue or white shirt and black or khaki pants. There's the Walmart vest, too, which the company provides. But everything else must be paid for out of employees' pockets.
Many workers have expressed frustration and outrage over the new policy, given that full-time personnel make on average only $27,000 a year.
The retail giant also employs a significant number of part-time help, who make even less money.
"The sad truth is that I do not have $50 laying around the house to spend on new uniform clothes just because Walmart suddenly decided to change its policy," Richard Reynoso, a Southern California Walmart employee wrote in a letter to management, according to Huffington Post. "If I have to go out of pocket for these new clothes, I'm going to have to choose which bill to skip."
Business Insider reported that one worker claimed to have "gone through four to five dress code changes" during their employment so far.
Walmart spokesman Kory Lundberg told Huffington Post that the change was made because, under the old dress code, customers had complained they had trouble distinguishing between employees and customers wearing similar-looking clothes.
"[We've gotten] a lot of feedback" from Walmart employees about the new uniform change, and most of it has been positive, claims Lundberg.
"There is nothing illegal here, it is not unprecedented, but is it really necessary?" Judy Conti of the National Employment Law Project said to the Post. "It's one more cost they're asking the country's lowest-wage workforce to absorb."
Walmart reportedly made $4.09 billion in profits during the last quarter.
-Noel Brinkerhoff
To Learn More:
Walmart Workers Complain They Can't Afford New Dress Code (by Jillian Berman, Huffington Post)
Walmart May Make Up to $78 Million Forcing Employees to Pay for New Work Uniforms (by Alyssa Figueroa, AlterNet)
Walmart Workers Rant About the "Nonsense" New Dress Code (by Hamilton Nolan, Gawker)
Walmart Asks Employees to Donate Food for other (Underpaid) Employees (by Noel Brinkerhoff and Danny Biederman, AllGov)