U.S. House Committee to Review Reporting Practices that Keep House Members' Travel Details Secret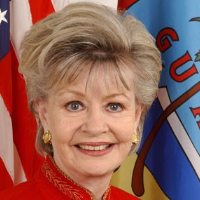 Madeleine Bordallo
The details of Congressional travel, which are often kept from the public, might soon become a bit less opaque.
The Committee on House Administration recently said it would review and evaluate "current standards and procedures in an effort to clarify House regulations and practice" regarding the reporting of lawmakers' expenses and is creating a panel to look into the situation. Democrat Zoe Lofgren of California and Republican Rodney Davis of Illinois will review the current regulations with an eye toward increasing transparency.
Government watchdogs such as the Sunlight Foundation note that current reports often reveal few details about Congressional travel expenses. Often large sums are explained with phrases such as "travel subsistence" or "travel reimbursement" along with a dollar amount.
Over the past five years, House members have reported spending more than $33.7 million on travel. More than 100 line items in the travel section have been for $10,000 or more, according to the Sunlight Foundation.
With the current reporting, "there's no way to tell whether a single credit card payment is for charter travel to a January conference in Hawaii or to cover four months of economy class tickets to Des Moines," the foundation's Jacob Fenton wrote.
The biggest travel spender in the House from 2010 to 2014 was Democrat Madeleine Bordallo, a non–voting delegate who represents Guam. She spent $1,061,780. Bordallo's office explained the high expenses were a result of the cost of flying the delegate and staffers back and forth from Guam. However, Sunlight Foundation reporting showed that Bordallo and her staff were not taking advantage of more favorable airfares negotiated by the government.
Congressional offices began to be more secretive about their travel details once the expense reports became available online for easy viewing by the public.
-Noel Brinkerhoff, Steve Straehley
To Learn More:
Travel in the Shadows: House Reports Omit Key Spending Details (by Jacob Fenton, Sunlight Foundation)
Committee Members to Review House Regulations Governing Official Expenses (Committee on House Administration)
House's New Financial Reports Drop Details (by Paul Singer, Roll Call)
Bipartisan House Bill would Prohibit Congress from Flying First Class at Taxpayers' Expense (by Noel Brinkerhoff, AllGov)
High-Flying Lawmakers Spent Half of Their $3.3 Million in Free Travel on Summer Getaways (by Noel Brinkerhoff, AllGov)