Under the Radar, Payroll Tax Increase Hits the Working Poor
Sunday, February 10, 2013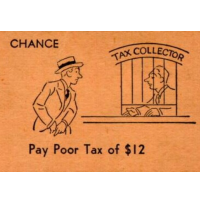 Tax the Poor (graphic: foodnetworkhumor.com)
When Democrats and Republicans resolved the fiscal-cliff crisis last month, they allowed a two-year payroll tax break to expire, causing a modest, though no less significant, hit to most Americans' pocketbooks.
The tax, which supports Social Security, increased from 4.2% to 6.2% on all earned income up to $113,700. About 77% of households will be impacted by the change.
For American homes making $100,000 a year, the increase translates into an additional $2,000 a year in payroll deductions.
Economists are projecting the payroll tax increase will reduce disposable income by about $120 billion and shave half a percentage point from economic growth in the first quarter, according to The New York Times.
In good economic times, a half percent drop in growth wouldn't be a big deal. But with the economy only expected to grow 1%-2% this year, the loss could prove significant.
"If you wanted to design a policy to squeeze the spending of lower- and middle-income households, raising the payroll tax is the way to do it," Ian Shepherdson, chief economist at Pantheon Macroeconomic Advisors, told the newspaper. "It's very regressive."
A Thomson Reuters/University of Michigan survey of consumers revealed an unusual divergence of financial change among different income groups in January, with 32% of those with household incomes of less than $75,000 a year reporting that their income had dropped, compared with 23% of those with incomes of more than $75,000. Only 13% of lower-income households reported an increase income, whereas 38% of upper-income households did so.
-Noel Brinkerhoff
To Learn More:
Restored Payroll Tax Pinches Those Who Earn the Least (by Nelson Schwartz, New York Times)
Bigger Tax Bite for Most Under Fiscal Pact (by Binyamin Appelbaum and Catherine Rampell, New York Times)