Truck Driver Pay has Plunged over Last 4 Years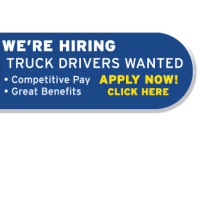 (graphic: Riggins Oil)
Despite higher demand for truck drivers, wages are down and that has led to a driver shortage which has made it difficult for shippers to fulfill orders.
Neil Irwin at The New York Times reports that truck drivers' salaries have declined since the Great Recession, from more than $42,500 a year in 2009 to $40,940 last year. The drop is even larger going back to 2003, when the average trucker salary was more than $43,000 annually.
Irwin found the country needs about 30,000 more drivers, according to statistics from the American Trucking Associations and the hiring gap could grow to 200,000 within the next 10 years.
One reason pay is lower than the market would call for is that shippers have been loath to pay more to transport their goods. Another is that drivers are often paid by the mile, and new regulations have put more restrictions on the time they can spend on the road. Federal regulations limit drivers to a 70-hour work week followed by 34 hours of rest.
In addition, the industry is having trouble replacing retired drivers with younger workers who are reluctant to take a job that involves long hours and sometimes weeks at a time on the road.
Keep in mind the national unemployment rate is more than 6%, so there are still plenty of Americans looking for jobs who could help fill this shortage.
As a result of the truck-driver gap, transportation companies are rejecting new business opportunities because they can't keep up with demand, Irwin says.
Swift, the largest truckload carrier in the country, is trying to turn the tide. Company officials have promised their drivers the biggest pay increase in the history of the company, according to JOC.com. In addition, Swift is putting pressure on its customers to accept a rate increase. Other companies are offering bonuses for experienced drivers to work for them, but that merely moves the problem without solving it.
-Noel Brinkerhoff, Steve Straehley
To Learn More:
The Trucking Industry Needs More Drivers. Maybe It Needs to Pay More. (by Neil Irwin, New York Times)
Shortage of Drivers May Spark Higher Peak-Season Truck Rates (JOC.com)
Trucking Industry Fears Driver Shortage Could Hurt Economic Growth (by Hugh Morley, NorthJersey.com)