Treasury Inspector General Says 3.6 Million Americans Received Improper Education Tax Credits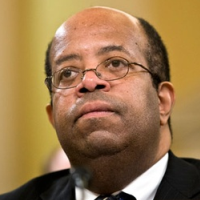 Treasury Inspector General J. Russell George (photo: Scott Applewhite, AP)
Millions of American taxpayers may have gotten away with claiming education tax credits for which they're not eligible, according to the government watchdog for the Internal Revenue Service (IRS).
The Treasury Inspector General for Tax Administration (TIGTA) said that in 2012, 3.6 million taxpayers enjoyed more than $5.6 billion in education credits for which they didn't qualify. The credits, which were created to help pay for college, were the Lifetime Learning Credit and the American Opportunity Tax Credit.
Of the 3.6 million Americans who illegitimately got the credits, more than 2 million did so without filing the necessary supporting paperwork, a Form 1098-T. This group got more than $3.2 billion in education credits. Another $2.5 billion was paid to 1.6 million filers for students attending ineligible institutions.
The inspector general also flagged returns filed by prisoners who were incarcerated for the entire year and from those who were likely too young, under 14, or older than 65. The age filters found $61.5 million in credits going to those who are probably too young or too old to have attended college. In addition, $3.9 million went to prisoners who probably did not attend a qualifying institution.
The TIGTA also noted in its report that this wasn't the first time it has told the IRS about allowing erroneous education credits. "The IRS still does not have effective processes to identify erroneous claims for education credits," TIGTA Inspector General J. Russell George said in a statement, according to Accounting Today. "Although the IRS has taken steps to address some of our recommendations, many of the deficiencies TIGTA previously identified still exist. As a result, taxpayers continue to receive billions of dollars in potentially erroneous education credits."
TIGTA recommended that the filing date for 1098-T forms be moved to Jan. 31 of each year, so the information can be used to evaluate suspicious claims.
-Noel Brinkerhoff, Steve Straehley
To Learn More:
Billions of Dollars in Potentially Erroneous Education Credits Continue to Be Claimed for Ineligible Students and Institutions (Treasury Inspector General for Tax Administration) (pdf)
IRS OKs Billions in Potentially Erroneous Education Tax Credits (by Michael Cohn, Accounting Today)