Treasury Dept. Ignores Fraud Charges and Awards Comerica 5 more Years of Providing Benefit Cards to Elderly and Disabled
Wednesday, September 17, 2014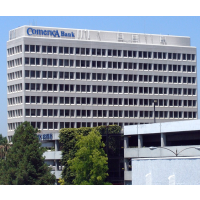 Comerica Bank Tower, San Jose (photo: Coolcaesar, Wikipedia)
Comerica Bank seemingly was on its way out of doing business with the U.S. Department of the Treasury after it was learned that the bank had exposed thousands of elderly and disabled Americans to fraud. But somehow it just got another deal with the agency…for another five years.
The Center for Public Integrity first revealed Comerica's foul-ups last year. An investigation showed thousands of individuals "had their Social Security and other benefits illegally rerouted to criminals' accounts because of weak fraud controls" at Comerica, Daniel Wagner reported.
The center also found that an "aggressive" marketing campaign by Comerica and the Treasury Department resulted in a million Americans being sent "Direct Express" benefit cards—used to distribute Social Security and disability payments—to people who didn't need or request them. This resulted in a financial gain for the bank, given that card fees are much higher than direct deposit into an account, which many of the card recipients already had.
On top of that, it was discovered that the Treasury Department had rewarded Comerica with $32.5 million for work it was supposed to do for free. The improper government payment turned the bank's potential 2013 loss of $24.2 million into an $8.4 million profit.
The findings were enough to prompt Treasury officials to announce that they would bring in another firm to handle the department's "Direct Express" services that Comerica allegedly botched.
And yet, the maligned contractor is still around.
The decision has caught the attention of Treasury's Office of the Inspector General, who now plans to review the steps that led to Comerica getting the five-year contract.
-Noel Brinkerhoff, Danny Biederman
To Learn More:
Treasury Extends Controversial Bank-card Deal with Comerica (by Daniel Wagner, Center for Public Integrity)
Federal Program to Pay Benefits without Checks Hurts Poor, Helps One Bank (by Noel Brinkerhoff, AllGov)