Thanks to Supreme Court McCutcheon Ruling, Super Rich Pour Money into Election Campaigns
Wednesday, September 03, 2014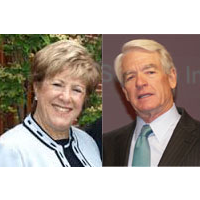 Marsha Laufer and Charles Schwab
A controversial 5-4 Supreme Court ruling earlier this year has resulted in exactly what critics feared and supporters had hoped: Enormous contributions by wealthy donors into this year's midterm elections.
In April, the court ruled in McCutcheon v. Federal Election Commission that the government could not limit how much individuals can give to candidates and political parties. The limits on giving to a specific candidate, $5,200 per election cycle, and to a party, $32,400 a year, are still in place.
The decision meant the existing cap of $123,200 on contributions by individuals was gone, freeing up the rich to pour hundreds of thousands of dollars more into campaigns. And that's what many of America's elite have done over the past four months. OpenSecrets.org says 310 people have eclipsed the $123,200 mark so far this year.
The largest donor to date in this group is Marsha Laufer, a retired speech-language pathologist and philanthropist, who has given $384,900 to Democrats. The No. 2 spot is occupied by Charles Schwab, founder of the investment firm, who has contributed $338,900, all to Republicans.
Overall, Republicans have benefited more from the McCutcheon than Democrats, having raked in $33.3 million from the 310 top donors versus $15.6 million, respectively.
The Koch brothers, plus extended family, have contributed $736,500 (Charles Koch $164,800, David Koch $258,500, Chase Koch [Charles' son] $158,800, Julia Koch [David's wife] $154,400).
Shaun McCutcheon, the Alabama Republican responsible for the lawsuit that toppled the contribution limit, hasn't even broken the limit he fought to do away with. He has given $85,412 so far this cycle.
-Noel Brinkerhoff
To Learn More:
Cracking the Contribution Cap: One in a Million Americans (by Russ Choma, Lalita Clozel and Viveca Novak, OpenSecrets.org)
Wealthy Political Donors Seize on New Latitude to Give to Unlimited Candidates (by Matea Gold, Washington Post)
Supreme Court's Lifting of Campaign Donation Caps Ripples Down through the States (by Steve Straehley, AllGov)
Who are the Winners in the Super-Rich Supreme Court Ruling? (by Noel Brinkerhoff, AllGov)