Students Borrow Money to Attend College and some of the Money is Spent to Subsidize Athletic Dept.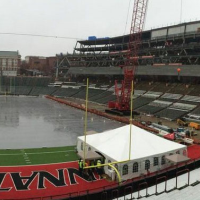 University of Cincinnati stadium renovation (photo: University of Cincinnati)
It's one thing to take out student loans totaling tens of thousands of dollars to pay for a college education, and it's quite another when a chunk of this interest-bearing debt winds up keeping the school's sports programs solvent.
An investigation of Ohio universities by an investigative reporting class at the University of Cincinnati found that many of their fellow students had no idea that a portion of their fees went to subsidizing college athletics.
At the University of Cincinnati, officials gave the athletic department a $21.75 million subsidy two years ago. That funding amounted to $1,024 out of the pocket of every full-time undergraduate student on Cincinnati's main campus, costing students more than $4,000 by the time they've graduated, according to the report.
For some students, the fees helping financially struggling team sports represent 20% of the money they're borrowing to attend the university.
"It seems to be a corruption of education, in all honesty," Kevin Leugers, a University Honors Program student, said. "Athletics is being given priority over education, over the professors, over the students. I just think that's wrong."
While money goes to athletic programs, the part of the university where the actual learning happens must make do with less. Academic spending per student dropped 24% at Cincinnati from 2005 to 2013. Meanwhile, the school is spending $86 million to renovate its football stadium.
The University of Cincinnati isn't the only four-year institution in Ohio funneling money to sports through student fees. Miami University has an athletics subsidy of $1,226 per student, while the University of Akron's is $1,095. In fact, of the eight state schools investigated by the Cincinnati students, only giant Ohio State University, winner of last season's college football championship, provided no student subsidy to its athletic programs.
"It's Robin Hood in reverse," Jeff Smith, a college sports subsidies expert who teaches management at the University of South Carolina Upstate, said. "These schools are imposing a regressive tax on those students least able to afford it. If I were a student, I would be screaming about this."
-Noel Brinkerhoff
To Learn More:
Robin Hood in Reverse (by Morgan Batanian, Katie Coburn, Fernanda Crescente, Taylor Jackson, Tyler Kuhnash and Camri Nelson, CityBeat)