Should Restaurants be Allowed to Accept Food Stamps?
Saturday, September 10, 2011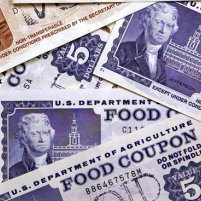 With food-stamp benefits more than doubling in recent years, the restaurant industry has decided it wants in on the action.
Federal law currently prohibits restaurants from accepting food stamps, although exceptions are allowed for the disabled, elderly and homeless.
Yum! Brands, parent corporation for Taco Bell, KFC, Long John Silver's and Pizza Hut, is one party advocating for the change in law.
The lobbying comes as funding for food stamps has soared from $28.5 billion in 2005 to $64.7 billion in 2010.
One industry already involved in the program—convenience stores—does not want restaurants to get a piece of the pie, arguing that the change would not be in the interests of public health (and their own profit margin).
-Noel Brinkerhoff