Political Megadonors—Top 1% of the Top 1%—Have Increasing Impact on Campaign Financing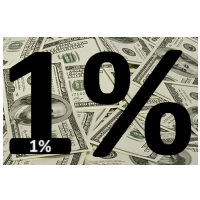 Photo illustration: Steve Straehley/AllGov
The financial "gatekeepers" of the American political system have continued to grow in size and importance to U.S. elections.
These megadonors, who are about 1% of 1% of all Americans, have become a disproportionate force in financing campaigns, according to data compiled by the Center for Responsive Politics and the Sunlight Foundation.
Consider this: During the 2014 midterms, 31,976 donors (out of 323 million people) were responsible for pouring $1.18 billion in disclosed political contributions at the federal level. And that doesn't even include dark money that was spent through the use of loopholes in federal tax laws that allow the uber-rich to avoid revealing certain contributions.
The $1.18 billion represented 29% of all fundraising that political committees reported to the Federal Election Commission in 2014 in an election cycle that set records as the most expensive midterms in U.S. history. In 2010, the big donors accounted for 21% of all official contributions. Two years later, it was up to 25%, Peter Olsen-Phillips, Russ Choma, Sarah Bryner and Doug Weber reported at the Sunlight Foundation.
The size of the megadonor class has also expanded over the past five years. In 2010, only 14 individuals contributed a total of $500,000 or more, and only eight gave $1 million or more. By last year, the number of donors giving $500,000 and up increased to 134 and 63 people gave more than $1 million.
-Noel Brinkerhoff
To Learn More:
The Political One Percent of the One Percent: Megadonors Fuel Rising Cost of Elections in 2014 (by Peter Olsen-Phillips, Russ Choma, Sarah Bryner and Doug Weber, Sunlight Foundation)
Upset about the Richest 1%? The Top .000003% Own $25 Trillion (by David Wallechinsky and Noel Brinkerhoff, AllGov)