Obama Pushes to Extend Overtime Pay to 5 Million more Workers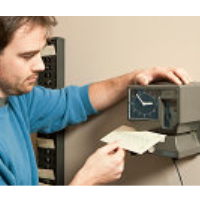 (photo: Getty Images)
Up to 5 million more Americans could receive overtime pay under a plan unveiled Monday by President Barack Obama.
Using his executive powers, Obama intends to have his administration adopt a rule raising the threshold that automatically qualifies workers for time-and-a-half overtime wages, even if they're in salaried jobs. The threshold is now $23,660 a year, but the president wants to lift it to $50,440. This would bring in workers in industries such as retail and fast food who are classified as "managers" but often do the same work as hourly employees and work 50 hours a week or more.
"Right now, too many Americans are working long days for less pay than they deserve," Obama wrote in an op-ed published by Huffington Post.
The change "would restore the overtime salary threshold to roughly where it stood in 1975 in terms of purchasing power, without congressional approval," according to The New York Times.
It remains to be seen, however, if the plan goes into effect. Although the regulation could be adopted as soon as next year, Republicans in Congress might try to kill it by inserting language into a so-called "must-pass" bill.
As the business community almost always does with any new rule affecting it, executives decried the plan as one that will hurt companies and force them to cut jobs. The National Retail Federation has argued that expanded overtime will "add to employers' costs, undermine customer service, hinder productivity, generate more litigation opportunities for trial lawyers and ultimately harm job creation," the Times reported.
-Noel Brinkerhoff
To Learn More:
Obama Making Millions More Americans Eligible for Overtime (by Noam Schreiber, New York Times)
Obama Plans To Extend Overtime To More Salaried Workers (by Greg Jaffe, Washington Post)
A Hard Day's Work Deserves a Fair Day's Pay (by Barack Obama, Huffington Post)
Obama to Order Increased Overtime Pay for Loan Officers, Computer Technicians and Managers (by Noel Brinkerhoff, AllGov)