New Non-Profit Tied to Jeb Bush Campaign Opens Floodgates to More Dark Money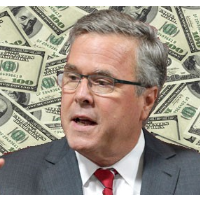 (photo illustration: Steve Straehley, AllGov; AP photo)
Presumed presidential contender Jeb Bush has upped the stakes in modern political fundraising by establishing a new nonprofit to raise dark money from individuals and corporations.
Right to Rise Policy Solutions was officially set up in February by Bill Simon, a former Wal-Mart chief executive. Simon served as head of Florida's Department of Management Services during Bush's second term as governor. "The two remain close," according to The Washington Post, and "Simon has been helping Bush develop policy positions and identifying potential experts to eventually join the campaign," which raises questions of legality since nonprofits like Right to Rise are supposed to operate independently of a candidate's campaign.
Just as important is what kind of impact Right to Rise will have on fundraising during the 2016 race. The nonprofit will be able to collect unlimited contributions from individuals and corporations without disclosing their identities.
"If it looks like a good idea, others are going to copy it in short order," Kenneth Gross, a Washington campaign finance lawyer and former associate general counsel of the Federal Election Commission, told the Post.
Although the group claims it won't be spending money on ads or other "paid political advocacy," Right to Rise will keep voters in the dark about who's backing Bush. "We generally will know who the millionaires are chipping into the super PAC," Craig Holman, government affairs lobbyist for the group Public Citizen, told the Post. "But this is going to be an avenue for dark money."
Bush, along with Republicans former Pennsylvania Sen. Rick Santorum and Wisconsin Gov. Scott Walker, as well as former Maryland Democratic Gov. Martin O'Malley, is the subject of complaints filed with the Federal Election Commission by claiming they're not exploring presidential campaigns as a ruse to raise money before they jump into the race.
-Noel Brinkerhoff, Steve Straehley
To Learn More:
How a Bush-Allied Nonprofit Could Inject More Secret Money Into '16 Race (by Ed O'Keefe and Matea Gold, Washington Post)
Will The Media Stay Silent On Jeb Bush's Dark Money Donations? (by Alexandrea Boghun, Media Matters for America)
Watchdog Groups: Jeb Bush, Others Violating Campaign Finance Laws (by Rebecca Kaplan, CBS News)
Jeb Bush Asks Donors to Limit Contributions to $1 Million Each…For Now (by Noel Brinkerhoff and Danny Biederman, AllGov)
Will Secret Donors Dominate the Upcoming Election Season? (by Steve Straehley, AllGov)