Navajos Gain Largest Native American Settlement with U.S. Government over Mismanagement of Natural Resources
Tuesday, September 30, 2014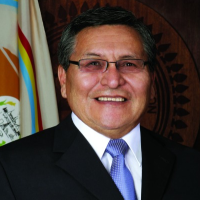 Ben Shelly (photo: Navajo Nation)
Before this year is up, the Navajo Nation will receive more than half a billion dollars from the federal government to settle the government's historical mismanagement of tribal resources.
The $554 million wraps up an eight-year-old lawsuit that Navajo leaders filed claiming the federal government spent decades, going back to 1946, managing leases to oil, gas, timber and other natural resource companies without getting a fair return for the tribe. The plaintiffs originally sought $900 million. The settlement is by far the largest made in the more than 100 financial breach-of-trust suits brought by Indian tribes. Including the Navajo settlement, the Obama administration has negotiated $2.61 billion in compensation to 80 tribes that had sued the government.
"When the government negotiated the contracts, they didn't do a good job in getting a fair market value," Andrew Sandler, the Navajo Nation's attorney, told The New York Times. "The government didn't do a good job in monitoring the extraction to make sure the proper royalties were paid, and the government didn't do a good job in investing the money."
Navajo Nation President Ben Shelly said the settlement won't fully compensate the tribe for lost revenue, but it does mark a change in the way the federal government interacts with the Navajo. "The way forward for the Navajo Nation — as with all Indian country — is to develop our ability to stand on our own and rely less on the federal government to provide for our people," Shelly told the Arizona Republic.
The largest Indian tribe in the United States, the Navajo Nation has about 300,000 members located in Arizona, New Mexico, and Utah.
-Noel Brinkerhoff, Steve Straehley
To Learn More:
Navajos to Get $554 Million to Settle Suit against U.S. (by Julie Turkewitz, New York Times)
U.S. Government Formally Agrees to Pay Navajos $554 Mil (by Paul Giblin, Arizona Republic)
Navajo Nation's Complaint against the U.S. (New York Times)
Obama Administration Settles Native American Farm Loan Case (by Noel Brinkerhoff, AllGov)