Missouri Sues St. Louis Suburbs for Funding Government Through Traffic Fines
Wednesday, December 31, 2014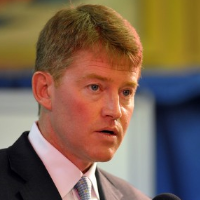 Missouri Attorney General Chris Koster (AP photo)
How are small towns—some only the size of two square blocks, holding only a few hundred residents—expected to finance their equally small governments? Use of roadway speed traps is the obvious answer. Or so claims one state attorney general.
Missouri Attorney General Chris Koster has sued 13 municipalities in St. Louis County for violating state law. Four of them were accused of relying too much on traffic fines to fund local government operations, using monies from speeding tickets and other traffic violations to pay for more than 30% of their budgets. Eclipsing 30% is against the state's Mack's Creek law, which says anything beyond that amount is supposed to go towards funding public schools.
Koster charged four other cities of failing to report how much of their revenue came from fines and court costs. And another five were accused of failing to submit their reports at all.
Koster also said his lawsuit (pdf) may expand to include other cities once his office gathers more financial reports from municipalities. His actions came following protests by citizens of nearby Ferguson over the shooting of Michael Brown by a police officer. Many protestors have alleged widespread harassment by local governments of minorities and the poor, including excessive use of minor traffic violation ticketing by law enforcement.
Koster described those practices, used to promote revenue, as "inappropriate" and "predatory."
The current defendants are the towns of Bellerive Acres, Beverly Hills, Breckenridge Hills, Crystal Lake Park, Hillsdale, Mackenzie, Moline Acres, Normandy, Pagedale, Pasadena Park, Uplands Park, Velda Village Hills and Vinita Terrace.
St. Louis Country has 90 municipalities with a total population of almost one million. The combined population of the 13 counties that Koster sued is 15,373, which amounts to 1.5% of the county.
Officials in these cities objected to Koster's claims that they have broken the law. Some said their reports prove they have funded budgets using only a fraction of traffic fines, while others accused Koster of grandstanding at their expense.
Richard Sheets, deputy director of the Missouri Municipal League, said the litigation was "premature and may be more of the political nature."
"If it wasn't for political reasons, I think the AG would have said, 'Hey, you don't have a report, I'm gonna give you five days to submit this report,'" Sheets told the St. Louis Post-Dispatch.
Koster's lawsuit acknowledged that some of the municipalities may actually have not exceeded the 30% cap, given that their traffic and non-traffic fines are combined in their reports.
-Noel Brinkerhoff, Danny Biederman
To Learn More:
Koster Sues 13 St. Louis County Municipalities Over Court Fees (by Jennifer Mann, Stephen Deere, Jeremy Kohler, St. Louis Post-Dispatch)
Missouri Sues 13 St. Louis County Towns For Speed-Trap Profiteering (by James Hood, Consumer Affairs)
Contesting Traffic Fines, Missouri Sues 13 Suburbs of St. Louis (by Eli Yokley and Mitch Smith, New York Times)
Koster's Lawsuit Against 13 St. Louis County Municipalities (St. Louis Post-Dispatch) (pdf)