Judge Approves Largest Settlement Ever against U.S. Government…$3.4 Billion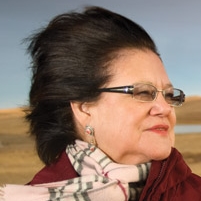 Elouise Cobell (photo: Montana & Minds, Montana State U.)
A federal judge has approved the largest settlement ever against the U.S. government, clearing the way for more than a billion dollars to be distributed among thousands of American Indians.
Under the $3.4 billion settlement, $1.5 billion will go to at least 300,000 Indians. Another $1.9 billion will be used to buy back and consolidate tribal land that had become subdivided and difficult to manage. And $60 million will go to a scholarship fund for Indian students.
Lawyers representing the plaintiffs will receive $99 million, which is less than half of what they wanted but nearly double the $50 million that the government had recommended.
The suit was originally filed in 1996 by Elouise Cobell, a member of the Blackfeet Nation in Montana. Cobell, recovering from cancer surgery, did not attend the final hearing, but did issue a statement by speaker phone in which she said, "The settlement isn't perfect. I do not think it compensates all for all the losses sustained, but I do think it is fair and it is reasonable."
-Noel Brinkerhoff, David Wallechinsky