Is NRA Breaking the Law with its Political Uses of Donations?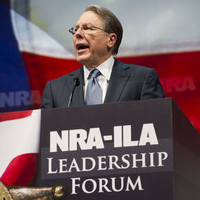 NRA CEO Wayne LaPierre (photo: Steve Ueckert, AP)
The National Rifle Association (NRA) has been accused of breaking federal election law through its soliciting of donations and shifting them to various political committees it runs.
An investigation by Yahoo News said the NRA has taken contributions made to its Institute for Legislative Action (ILA) and funneled them to a completely different NRA organization, the NRA Political Victory Fund (PVF). That outfit uses its funds to support and oppose candidates running for office. Such a transfer of money represents a clear violation of the Federal Election Campaign Act (pdf) (FECA), according to federal election law experts.
"The bottom line is that it is illegal for the NRA to solicit money for the ILA and have that money go to the PVF," Larry Noble, former general counsel of the Federal Election Commission who now serves as senior counsel at the Campaign Legal Center, told Yahoo News. "I don't see how your contributions could legally be put in the PVF account."
Alan Berlow at Yahoo News also reported that the NRA may have broken federal tax laws, too, by not reporting all relevant corporate political expenditures. "The Internal Revenue Service has special reporting requirements for tax-exempt corporations like the NRA, which is classified as a 'social welfare organization,' or a 501(c​)(4) corporation in IRS nomenclature," Berlow wrote. "Unlike tax-exempt charities such as the Red Cross or the United Way, which may engage in only very limited political activities, 'social welfare' organizations are given broader latitude to spend money on politics, so long as their 'primary purpose' is not political."
But, "in return for this broader authority to engage in politics, the IRS insists that tax-exempt groups like the NRA report all their corporate political expenditures" … something it hasn't always done, Berlow says.
"There are at least three clear violations" of federal law that have been committed by the NRA, political law and campaign finance expert Brett Kappel told Yahoo News. "First of all, they can't be soliciting from the general public at their website. Then there's the fact that the money is not being solicited in the name of the PAC; they have to say it's for the PAC and what the political purpose of the PAC is. And then there are multiple missing disclaimers such as the disclaimer saying that contributions have to be voluntary."
According to statistics from the NRA and the FEC, the NRA's political expenditures last year included $20.7 million from its PVF holdings, $12.6 million from its ILA fund, and $3.5 million in corporate political spending on behalf of PVF.
-Noel Brinkerhoff
To Learn More:
The NRA's Brazen Shell Game with Donations: A Yahoo News Investigation (by Alan Berlow, Yahoo News)
National Rifle Association Contributions (OpenSecrets.org)
Karl Rove, Koch Brothers and NRA Hit the Jackpot in Election Victories (by Noel Brinkerhoff, AllGov)
NRA-Endorsed Candidates Did Well in House Races, but went 3 for 13 in the Senate (by Noel Brinkerhoff, AllGov)