Increased Purchases of Guns Ends up Funding Wildlife Research…and Shooting Ranges
Friday, September 19, 2014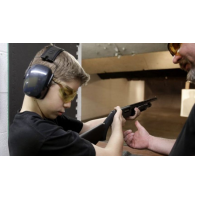 12-year-old at a shooting range (AP Photo)
Irrational fears of gun control run wild under President Barack Obama have produced a significant surge in gun and ammunition purchases in recent years, which also have turned out to be a good thing for hunting-related conservation programs.
Every time a gun store sells a firearm or box of bullets, a federal excise tax becomes part of the purchase, thanks to the Pittman-Robertson Act of 1937 (pdf). The act was created to protect animal species that were in danger of being hunted to extinction. Tax revenue flows to government coffers, specifically those that fund programs for wildlife research and other hunting-related projects.
The result: Millions of dollars more for land uses enjoyed by hikers as well as hunters and gun owners.
"It is pretty neat how the benefits go far beyond the traditional users," Craig LeSchack, regional director for conservation programs for Ducks Unlimited, told the Raleigh News & Observer. "Things that a lot of people enjoy – bird-watching, hiking – a lot of it has been accomplished by the Pittman-Robertson Act."
In 75 years, the tax law has generated $12 billion in revenue across the U.S. Since the surge of gun sales following Obama's election, the tax revenue has jumped from $310 in 2008 to $760 million in 2014.
This year, North Carolina alone has collected nearly $20 million in the revenues generated by gun and ammo sales—a three-fold increase since 2007. The money has allowed state officials to expand the number of public shooting ranges from one to four, with three more in development. The tax revenue has compensated for cuts in state spending and provided funds for new roads, signs and parking lots on two million acres of game lands that are under the control of the North Carolina Wildlife Resources Commission.
Erik Christofferson, head of the engineering and lands management division for the Commission, told the newspaper that target shooting is up 20% nationwide.
"So there's an increased need for safe facilities across the state, and we're trying to build these places to meet that need," he said.
State officials are aware that the boost in this tax revenue is temporary, dependent on the winds of political and social passions of the moment.
"I can assure you it won't last," Brad Gunn, the Commission's Pittman-Robertson financial coordinator told the News & Observer. "Unless gun and ammunition issues become an issue in the next presidential race."
-Noel Brinkerhoff, Danny Biederman
To Learn More:
Increasing Gun, Ammo Sales Produce Windfall for Wildlife in NC (by Richard Stradling, Raleigh News & Observer)
Why Ducks Quack for Obama (by Terry Anderson, Wall Street Journal)