Highway Upkeep Trust Fund Nears Bankruptcy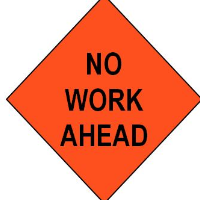 (graphic: Steve Straehley, AllGov)
Highway projects across the country could come to an abrupt halt later this year if the federal government's primary source of funding this infrastructure work runs out of money as projected.
The Highway Trust Fund's Highway Account, which finances maintenance and construction projects at the state level, currently has about $8.4 billion in it. But the U.S. Department of Transportation warns that demand for this funding is outpacing money available. As a result, the fund may go bankrupt by August unless Congress and President Barack Obama can reach a compromise to infuse it with more revenue.
Without a new funding plan, the Transportation Department would have to stop reimbursing states for highway projects. That could mean halting work in the middle of a project, as well as layoffs for road crews, Transportation Secretary Anthony Foxx says.
State transportation officials in Arkansas, California and Colorado are reportedly anticipating having to delay planned projects.
The trust fund relies on money generated from the federal gasoline tax, which hasn't been increased since 1993. Policymakers in Washington have been reluctant to raise the tax (currently at 18.4 cents per gallon) because the last time that happened, the backlash helped throw Democrats out of power as part of the 1994 Republican "revolution."
Instead, the Obama administration has proposed changes in corporate tax rules that would yield more funding for transportation projects.
If the president can't convince House Republicans to embrace his plan, the likely result in Washington's partisan atmosphere, the fallback may be to siphon money from the general treasury to keep highway projects going. But this option would stave off shutdowns of roadwork for just a few weeks or months.
-Noel Brinkerhoff
To Learn More:
Highway Trust Fund Ticker (U.S. Department of Transportation)
Highway Trust Fund Bankruptcy Will Halt Nation's Transportation Projects (by Crystal Shepeard, Care2)
Congress Is Giving States the Transportation Blues (by Joan Lowy, Associated Press)
Federal Transportation Funding May Be Running Out of Gas (by Noel Brinkerhoff and Danny Biederman, AllGov)