Health Care Waste Costs more than Pentagon Budget
Wednesday, September 12, 2012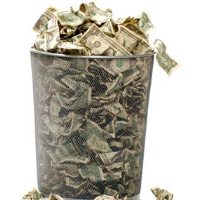 The United States wastes more money each year providing health care than it does paying for the entire Department of Defense budget, according to a new study.
Thirty cents of every dollar spent on medical services is squandered, says a group of researchers from the Institute of Medicine of the National Academies. That translates into $750 billion annually being flushed on unnecessary care, bureaucratic delays, fraud and other waste, based on calculations for 2009.
The Pentagon, meanwhile, spent about $646 billion in FY 2012.
The biggest area of waste in health care is unneeded services, which uses up $210 billion each year. Administrative costs consume another $190 billion, and inefficiencies burn up $130 billion. More than $100 billion disappears from inflated prices, and fraud robs another $75 billion.
"If banking worked like health care, ATM transactions would take not seconds but perhaps days or longer," states the report. "If home building were like health care, carpenters, electricians and plumbers would work from different blueprints, with very little coordination. If shopping were like health care, product prices would not be posted, and the price charged would vary widely within the same store, depending on the source of payment."
-Noel Brinkerhoff
To Learn More:
Health-Care System Wastes $750 Billion a Year (by Ricardo Alonso-Zaldivar, Associated Press)
Best Care at Lower Cost (edited by Mark Smith, Robert Saunders, Leigh Stuckhardt and J. Michael McGinnis, Institute of Medicine)