Grants to be Announced for Recycling of Cigarette Butts
Wednesday, January 14, 2015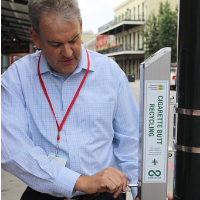 Cigarette butt recycling container in New Orleans (photo: Janet McConnaughey, AP)
A national nonprofit has announced it will award $275,000 next month to local governments to encourage the recycling of cigarette butts, a leading source of pollution.
The funding will come from Keep America Beautiful's (KAB) Cigarette Litter Prevention Program, which will distribute 50 grants to cities, parks districts and private organizations to pickup discarded cigarettes and recycle them.
"It's essential to reduce cigarette litter to lessen the environmental harm this common type of litter places on our landscapes and waterways," Jennifer Jehn, president and CEO of Keep America Beautiful, said in a statement. "Our Cigarette Litter Prevention Program is making a significant difference in communities where the program is being implemented because of public education in tandem with access to receptacles."
At least one city has already put butt recycling into practice. Salem, Massachusetts, has placed receptacles around the city and sends the butts to be recycled into items such as plastic shipping pallets and even ash trays. The recovered tobacco is composted.
Cigarette butts are considered a prime contributor to litter and local pollution, generating up to 1.7 billon pounds of environmental waste annually, according to a study (pdf) published by International Journal of Environmental Research and Public Health. KAB says smoked cigarettes account for 38% of all litter.
Cigarette filters, which contain plastic (cellulose acetate), are the biggest concern to environmentalists.
The grant winners will be announced at the end of February.
-Noel Brinkerhoff
To Learn More:
Cigarette Butt Recycling Initiative Goes National With New Local Grants Program (by Eric Pfeiffer, Government Executive)
Salem Pioneers Cigarette Butt Recycling Program (by John Castelluccio, Salem News)
Guide to Cigarette Litter Prevention
Cigarettes Butts and the Case for an Environmental Policy on Hazardous Cigarette Waste (Thomas E. Novotny, Kristen Lum, Elizabeth Smith, Vivian Wang and Richard Barnes, International Journal of Environmental Research and Public Health) (pdf)