Goldman Sachs-Supported Solar Company Uses Prison Labor to Make Panels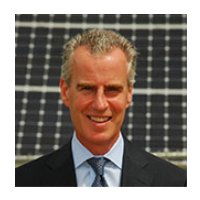 Suniva chairman and CEO John W. Baumstark (photo: Suniva)
A leading maker of solar panels in the United States backed by Goldman Sachs has been using prison labor to help keep its production costs down.
Suniva Inc., based in Georgia, contracts with UNICOR, the name of the 80-year-old Federal Prison Industries, so inmates can assist with the assembly of solar panels.
Company officials told Reuters that prison labor accounts for only a small portion of its manufacturing operations, less than 10%. They say Suniva factories in Georgia and Michigan employing 350 people produce most of the panels. Several hundred inmates make solar panels at prisons in Sheridan, Oregon and Otisville, New York, reported the news organization.
The arrangement is part of a longtime government program said to be designed to prepare inmates for transitioning to life after their release from prison. However, prison workers reportedly earn only between 23 cents and $1.15 per hour, and are required to spend at least half of their UNICOR income to pay off court-ordered financial debts. Furthermore, the prisons apparently provide no job placement assistance for inmates released onto the streets, whose prison records follow them as they seek employment.
The UNICOR program employs about 13,000 prisoners per year and, in 2013, made nearly $610 million, according to AlterNet.
Relying on cheap labor is nothing new for Suniva, the third-largest producer of solar modules in the U.S., which was using factories in Asia until 18 months ago to keep costs down. Signing a contract with UNICOR has enabled them to transfer their operations to the U.S., according to company sales vice-president Matt Card.
"By making panels in the United States, Suniva has been able to capture lucrative federal contracts, avoid U.S. government tariffs on Chinese-made panels, and appeal to private sector customers who want American-made products," wrote Reuters' Nichola Groom.
The company reportedly earned nearly $100 million in revenue last year.
-Danny Biederman, Noel Brinkerhoff
To Learn More:
Prison Labor Helps U.S. Solar Company Manufacture At Home (by Nichola Groom, Reuters)
Investors (Suniva)
UNICOR Contracting Agreement (U.S. Department of Justice) (pdf)
23 Cents an Hour? The Perfectly Legal Slavery Happening in Modern-Day America (by Terrell Jermaine Starr, AlterNet)