Firearms Injuries Lead to 31,000 Hospitalizations a Year at Annual Cost of $2.3 Billion
Friday, November 08, 2013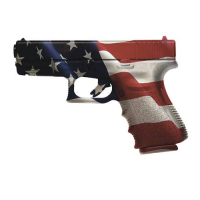 Guns put tens of thousands of Americans in the hospital each year at a cost of more than $2 billion, a new study (pdf) by health experts found.
Gunshot wounds resulted in an average of 31,000 hospitalizations annually from 2003 to 2010, according to the study coproduced by University Hospitals and Rainbow Babies & Children's Hospital.
The cost of caring for these individuals was $18.9 billion over eight years, or about $2.3 billion per year. The average cost of medical treatment for each hospitalization was $75,884.
"We are talking about huge numbers of people being hurt every year," Dr. Eric Fleegler, an emergency pediatric physician at Boston Children's Hospital who has published extensive research on firearm injuries and mortality, told the Crime Report. "These are not just problems for an individual but also an incredible burden on our healthcare system."
Some other research findings from the study:
89% of gunshot patients treated in hospitals were male
48% were African-American
Nearly 40% of patients were aged 20-30
More than 60% of injuries were caused by handgun "assault"
More than 8% of the injuries resulted in in-hospital death (20,355 deaths over eight years)
A third of all patients hospitalized for gun injuries was uninsured
More than 80% of gun violence costs are paid for by U.S. taxpayers through Medicaid or other publicly funded programs, according to a recent report from the Urban Institute.
-Noel Brinkerhoff
To Learn More:
Longitudinal Trends in Firearm Related Hospitalizations in the United States: Profile and Outcomes in 2000 to 2008 (by Min Kyeong Lee DMD, Veerajalandar Allareddy MD MBA FAAP, Sankeerth Rampa BE MBA, Romesh Nalliah BDS, and Veersathpurush Allareddy BDS PhD MBA MMSc; University Hospitals, and Rainbow Babies & Children's Hospitals) (pdf)
The Public Health Cost of Gun Violence (by Cara Tabachnick, Crime Report)