Financial Industry's Favorite Senator is a Democrat
Tuesday, November 18, 2014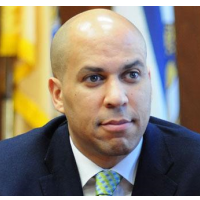 Cory Booker (AP photo)
In very little time, Senator Cory Booker (D-New Jersey) has proven himself a prodigious fundraiser with a knack for drawing large contributions from industries not known to bank heavily on Democrats.
The freshman lawmaker during the 2013-2014 election cycle raised from Wall Street the most money of any member of Congress: $1.87 million, according to OpenSecrets.org.
"Wall Street actually used to give more to Democrats, but in more recent years has been favoring the Republicans a lot more," Viveca Novak of the Center for Responsive Politics, which operates OpenSecrets.org, told WNYC/NJPR. "So for Booker to draw so much money from that industry is unusual."
Booker also proved to be the top draw from other deep-pocketed special interests: real estate groups, Hollywood, tech industries, accountants, and pro-Israel organizations.
"For him to be ranked at the top of so many categories is pretty remarkable," Novak said.
Right on Booker's heels, in second place, is none other than newly appointed Senate Majority Leader Mitch McConnell (R-Kentucky), who raised nearly $1.3 million from Wall Street interests. "That's an interesting juxtaposition with Mitch McConnell being number two," observed Novak. "Very, very different legislator, obviously, and Cory Booker is way ahead of him."
Not far behind McConnell is Speaker of the House John Boehner (R-Ohio), with a $1.1 million haul.
The other top fundraisers from the securities and investments industry, according to OpenSecrets.org, were:
John Cornyn (R-Texas) $1,015,643
Ed Markey (D-Massachusetts) $926,777
Charles Schumer (D-New York) $854,800
Mark Warner (D-Virginia) $848,066
Eric Cantor (R-Virginia) $801,575
Tom Cotton (R-Arkansas) $735,872
Lindsey Graham (R-South Carolina) $609,739
-Noel Brinkerhoff
To Learn More:
Booker Gets More from Wall Street Than Any Member of Congress (by Sarah Gonzalez, WNYC/NJPR)
Securities & Investment: Money to Congress (OpenSecrets.org)