Federal Judge Denies Citizens United Request to Keep Its Donors' Names Secret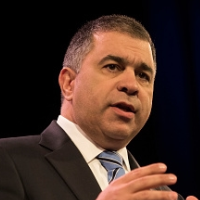 Citizens United president David Bossie (photo: Bloomberg/Getty Images)
By Jack Bouboushian, Courthouse News Service
(CN) — A federal judge on Monday dismissed Citizens United's claims that its donors would face harassment or retaliation if their names are made public, as required by New York law.
New York requires every charitable organization to file a copy of its IRS Form 990 Schedule B, a list of its donors, with the state's attorney general before the charity may solicit donations in the state.
In 2014, Citizens United and the Citizens United Foundation sued New York Attorney General Eric Schneidermann over the requirement, claiming its donors are entitled to privacy.
The nonprofits claim that disclosing the names of donors violates their First and 14th Amendment rights, and the New York Administrative Procedures Act.
Citizens United became well known with its 2010 victory in Citizens United v. Federal Election Commission (pdf), when the U.S. Supreme Court struck down Congress's attempt at campaign finance reform by ruling that freedom of speech prohibits the government from restricting a nonprofit's political spending.
The nonprofit's name has become indelibly linked with the rise of dark-money funded super PACs and unprecedented levels of corporate political spending in U.S. elections.
Due to the controversial 5-4 ruling, Citizens United has allegedly been compared to al-Qaida as an "enemy of the people," and its donors "reasonably fear public backlash, financial harm, and worse, should their support of a politically contentious and controversial cause become known publicly," according to the nonprofit's lawsuit.
But U.S. District Judge Sidney Stein ruled for Attorney General Schneidermann on Monday and dismissed the case.
"States have strong interests in ensuring that charities do not serve as fronts for fraud or crime," the judge said.
Requiring charities to disclose their source of funds directly promotes New York's interest in fighting fraud and does not substantially burden a charity's First Amendment rights, the 18-page opinion states.
Stein said Citizens United presented "no factual background or support for their conclusory assertions" that their donors would face harassment or retaliation if their contributions were disclosed to the public.
Schneidermann praised the ruling in a statement released Monday afternoon.
"Today's decision is a victory for common sense oversight of New York's vast nonprofit sector," he said. "New Yorkers deserve to know their donations are protected against fraud and abuse, and today the court protected that right by dismissing each and every one of Citizen United's claims."
Citizens United did not immediately respond to a request for comment Monday.
To Learn More:
As Political Campaign Spending Explodes, Disclosure Remains Hazy (by
NorCal Tea Party Leads Charge against IRS that May Put Focus on Dubious Nonprofit Claims (by Ken Broder, AllGov California)