Federal Court Tells Postal Service its Temporary Rate Increase must be…Temporary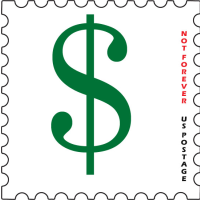 Graphic: Steve Straehley/AllGov
A federal appeals court has ruled that the U.S. Postal Service (USPS) may not make a temporary rate increase in effect since last year permanent.
The U.S. Court of Appeals for the District of Columbia Circuit ruled last week that USPS's emergency price increase of 4.3%, in place since January 2014, cannot last forever. The increase raised the price of stamps from 46 cents to 49 cents.
Postal service officials asked for and got the bump from the Postal Regulatory Commission (PRC), which oversees USPS, claiming it needed to recover some of the revenues lost during the Great Recession. The agency said its regular rate increase, based on inflation, wasn't enough of a revenue generator.
The increase came with a cap on how much money the USPS could recover, which is scheduled to be hit this summer. When postal officials asked to make the increase permanent, the PRC turned them down.
The Postal Service appealed the PRC's ruling to the D.C. Circuit, but lost again. "The Commission sensibly concluded that the statutory exception allowing higher rates when needed to respond to extraordinary financial circumstances should only continue as long as those circumstances, in fact, remained extraordinary," Circuit Judge Patricia Ann Millet wrote on behalf of the appeals court. "The Commission permissibly reasoned that just because some of the effects of exigent circumstances may continue for the foreseeable future, that does not mean that those circumstances remain 'extraordinary' or 'exceptional' for just as long."
Right now it's unclear when rates might be rolled back. So don't buy any more of those "Forever" stamps than you have to.
-Noel Brinkerhoff, Steve Straehley
To Learn More:
Postal Service Cannot Keep Emergency Price Hike Forever, Court Rules (by Eric Katz, Government Executive)
USPS Can't Keep Rate Increase Forever, Court Rules (by Lisa Rein, Washington Post)