Extreme Poverty Neighborhoods Make a Comeback in U.S.
Sunday, November 06, 2011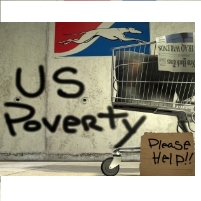 The number of Americans living in extremely poor neighborhoods increased in recent years, following a period in the 1990s when this problem was declining. Such areas are defined as having 40% of individuals living below the poverty line.
From 2000 to 2009, the number of people living in poverty-stricken neighborhoods went up by about 30%. Overall, the total of poor Americans residing in extreme poverty sections of cities rose from 9.1% to 10.5%, although this is still below the 1990 rate of 14.1%.
Forty-five percent of residents of extreme-poverty neighborhoods are African-American and two-thirds ended their education after high school.
-Noel Brinkerhoff