Democratic National Committee Spent $4.5 Million to Rent White House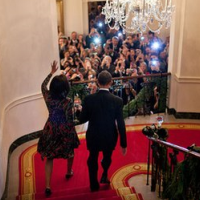 The Obamas greet waiting guests at their White House Christmas party, 2012 (White House photo)
Looking for a venue for your next holiday party? You could do worse than the spot favored by the Democratic National Committee (DNC). It has 132 rooms, 55,000 square feet of space and an impeccable catering staff. The only catch is that you have to be friends with the current tenant.
That tenant is President Barack Obama and the venue is the White House. The DNC has spent $4.5 million since 2011 renting the White House for gatherings such as the president's annual Christmas party and other events throughout the year. The holiday party is traditionally paid for by the political party of the president.
This came about after Obama, while on the campaign trail in 2007, declared: "The days of using the White House as another arm of the Republican National Committee are over." In a sense, he was right: it's now an arm of the DNC. It's difficult to show a quid pro quo, but according to the Sunlight Foundation, visitor logs at the White House show that many contributors and bundlers for Democrats and for the president are present during DNC-hosted parties.
When asked in 2009 about the connection between donating money and visiting the White House, then-presidential press secretary Robert Gibbs said, "contributing doesn't guarantee a trip to the White House, nor does it preclude it."
Sunlight compiled a list of the DNC payments to the National Park Service (which manages the White House grounds) for the use of "Reservation #1," which is how the agency refers to the White House.
The biggest parties thrown at the White House occurred at the lead-up to, and during, the holiday season, according data from the Federal Election Commission. This is supported by the cluster of DNC payments to the U.S. Treasury, in amounts ranging from $500,000 to nearly $1 million, that were made in the last three months of every year. Also, White House visitor logs confirm that thousands of people showed up at its front door during that time, clearly to attend holiday parties.
Treasury records documented non-holiday season parties as well, showing numerous payments for White House catering in amounts as low as $20,000 and as high as $60,000.
Republicans have also taken advantage of the White House when their party has been in office. From 2003 to 2006, the Republican National Committee paid $3.6 million for catering, meetings and decorations, according to Sunlight. As with the DNC, the Republicans' party spending spiked during the holiday season.
-Steve Straehley
To Learn More:
DNC Paid $4.5 million for Events at White House (by Peter Olsen-Phillips, Sunlight Foundation)