Defense Dept. Pays for Patriotic Displays at NFL Games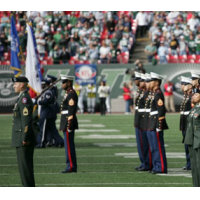 Military at New York Jets game (photo: Randall A. Clinton, U.S. Marine Corps)
If you've watched many NFL games on television or in person, chances are you've seen one in which members of the military are honored before the game. Soldiers are brought onto the field, the TV announcers adopt a respectful tone about the troops' service and the crowd cheers.
But would the crowd cheer as much if they knew the program was bought and paid for with their tax dollars? Instead of doing it out of goodwill, 14 NFL teams are paid by the Department of Defense to provide the patriotic displays.
The Pentagon paid $5.4 million from 2011 to 2014 to NFL teams for various kinds of military appreciation programs, according to reporting by Christopher Baxter and Jonathan D. Salant of New Jersey Advance Media. For example, the New York Jets, whose home field is actually in suburban New Jersey, received $377,000 from the Department of Defense and the New Jersey National Guard to put on military appreciation days highlighting "Hometown Heroes." The Army and National Guard work with several other NFL teams, and a few work with the Air Force.
Sen. Jeff Flake (R-Arizona) says the displays are a waste of money. "Those of us go to sporting events and see them honoring the heroes," Flake said in an interview. "You get a good feeling in your heart. Then to find out they're doing it because they're compensated for it, it leaves you underwhelmed. It seems a little unseemly."
Flake made it clear he doesn't object to the Guard putting its recruiting budget to work at football games. It's the implication that the teams are doing it out of patriotic fervor, rather than for financial gain, that bothers him. "We need to recruit and what better place to find young men and women than at a ballgame?" Flake said. "But when the team is honoring the heroes, that's the action I think rubs people the wrong way."
The NFL is the major sports league that does the most promotion of the military, especially since the terrorist attacks of September 11, 2001. Super Bowls, particularly those televised by Fox, are designed to promote patriotic values and highlight the sacrifices of the military, according to Andrew McGregor at Sport in American History. Air Force or Navy jets fly over stadiums, paratroopers are dropped onto playing fields and the colors red, white and blue predominate.
Other sports also salute the military. For example, the San Diego Padres, who play in a city filled with sailors and Marines, have Military Appreciation Sundays, where local members of the armed forces are honored and players wear uniforms in camouflage colors.
-Steve Straehley
To Learn More:
Jets' Salutes Honor N.J. National Guard But Cost Taxpayers (by Christopher Baxter and Jonathan D. Salant, New Jersey Advance Media)
Which NFL Teams Got Your Tax Dollars? (by Christopher Baxter, New Jersey Advance Media)
Patriot Games: Military Displays at Professional Football Games (by Andrew McGregor, Sport in American History)