DEA Paid Amtrak Secretary $850,000 for Passenger Lists Available for Free
Wednesday, August 13, 2014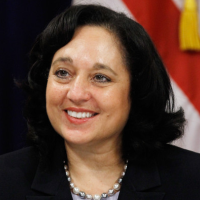 DEA Administrator Michele Leonhart (photo: Chip Somodevilla, Getty Images North America)
Here's one for the government blunder file: The Drug Enforcement Administration (DEA) wanted information on who was riding Amtrak trains, so a DEA official made a railroad employee a paid informant and doled out more than $850,000 to obtain the sought-after files. Only one problem: the same information could easily have been obtained for free.
This discovery was made by Amtrak's inspector general, who found the DEA forked over $854,460 over a 20-year period to a secretary-turned-snitch, according to the Associated Press.
The IG's report did not reveal the informant's identity, only that the person was encouraged to retire to avoid administrative punishment for disclosing the records without approval from Amtrak supervisors or police.
As for the DEA, it was involved in a joint drug enforcement task force with Amtrak Police during the payoffs—and it could have easily gotten the information through this channel without paying a dime, the IG reported, leading to speculation that DEA officials didn't trust their legitimate Amtrak partners.
Senator Charles Grassley (R-Iowa), the senior Republican on the Senate Judiciary Committee, said in a letter to the DEA that the informant plan raised "some serious questions about the DEA's practices and damages its credibility to cooperate with other law enforcement agencies," the AP's Pete Yost reported.
-Noel Brinkerhoff
To Learn More:
DEA Improperly Paid $854,460 for Passenger Lists (by Pete Yost, Associated Press)
OIG Status Report: April 1 through June 30, 2014 (see page 7) (pdf)
DEA Tries to Strongarm Physicians Connected to Marijuana Dispensaries (by Steve Straehley, AllGov)