Credit Scores to Change as FICO Discounts Paid Debts and Medical Debt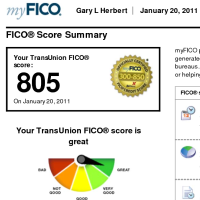 Many Americans can expect to see an increase in their credit scores in the wake of changes by one of the nation's most influential credit-scoring systems.
FICO announced last week that it would give less weight to medical debts when factoring credit scores—a significant move considering the debts account for about half of all unpaid collections on consumers' credit reports, according to The New York Times. The company also said paid collections would no longer cause scores to be downgraded.
"We found that for someone where medical collections is their only derogatory, it is not as negative as a regular unpaid collection would be," Anthony Sprauve, a FICO spokesman, said. "So we adjusted the algorithm."
John Ulzheimer, a credit expert at Credit Sesame, a consumer credit website, told the Times that those consumers whose credit scores were exclusively weighed down by unpaid medical debts that went to collection agencies could expect to see their scores "go through the roof" as a result. Those with a score of 711 and above may enjoy a bump of 25 points, which could mean a better deal on interest rates for loans, Ulzheimer added.
"For a lot of people, it's not so much going to be the difference between being approved and denied as it is the terms on which you are approved," Greg McBride, the chief analyst at consumer financial website Bankrate.com, told the Los Angeles Times.
The announcement doesn't mean it's time to start applying for more credit. It might take a year or more for the changes to be adopted by lending institutions.
FICO's move follows that of VantageScore, a joint venture of Equifax, Experian and TransUnion, the three major credit reporting companies, which decided in 2013 to ignore paid collection actions on credit reports. VantageScore hasn't said whether it will follow FICO's lead on medical debts.
-Noel Brinkerhoff, Steve Straehley
To Learn More:
Credit Scores Could Rise with FICO's New Model (by Tara Siegel Bernard, New York Times)
New FICO Criteria Could Help Borrowers (by E. Scott Reckard and Tim Logan, Los Angeles Times)
FICO Recalibrates Its Credit Scores (by AnnaMaria Andriotis, Wall Street Journal)
New National Database will Collect Credit Card Information, Account Balances, Loan Details and More…By Name (by Steve Straehley, AllGov)