Congressional Republicans and Democrats Join to Raise Annual Campaign Contribution Limit to $1.5 Million a Couple
Friday, December 12, 2014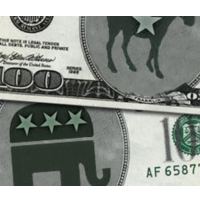 (graphic: CBS/AP)
If there's one thing Democrats and Republicans can agree upon in Washington, it's that they both want wealthy donors to contribute more money to their parties' fundraising committees.
Making that point abundantly clear—if it wasn't already—is a provision that unexpectedly showed up at the last moment in the back of the mammoth omnibus spending bill. The language in that provision would allow each political party to add four fundraising committees to the existing ones, with each new committee allowed to accept up to $97,400 per election cycle (which covers two calendar years).
Currently, a rich American can "only" give up to $194,400 per cycle to either the Republican National Committee (RNC) and its Senate and House fundraising committees or the Democratic National Committee (DNC) and its Senate and House fundraising committees. Add these four committees to the existing three committees and it means a wealthy donor could pump as much as $1.5 million into either the Republican or Democratic campaign operations per election cycle, according to OpenSecrets.org.
"For a couple, the total comes to a cool $3 million," Russ Choma wrote.
This new limit would apply to a very select group of Americans, probably totaling less than 300 people. That's because over the past 25 years, only 259 individuals have given more than $1.5 million to campaigns, Choma says.
The new provision was generated behind closed doors, wasn't disclosed to the public for open debate, and was a surprise when it was found buried in the spending bill.
"The impetus for the measure appears to have been driven by the Republican National Committee, which has aggressively sought ways to shake off its fundraising limitations," wrote the Post's Matea Gold and Tom Hamburger. They noted that the RNC declined to comment about the provision and the DNC insisted they were never consulted.
What's the explanation for its inclusion in the bill? Republican and Democratic officials say it's important to raise the fundraising contributions to their parties because so much money is now going to independent expenditure groups, over which the parties have no control.
"A lot of us would like to get the parties back in the game," Richard Hohlt, a Republican lobbyist and veteran fundraiser, told the Post. "This language would strengthen the parties and provides some transparency and oversight over an uncontrollable, Wild West fundraising atmosphere."
But that argument may not be bought by the public. "The last thing the American people want is for Congress to give big donors even more influence in politics, but that's exactly what this provision will do," Public Campaign president Nick Nyhart said in a statement. "The biggest donors will be able to buy more access and influence and everyone else back home will continue wondering who their elected officials are working for."
This expansion of political fundraising would be "the most destructive and corrupting campaign [provision] ever enacted by Congress," fundraising reform advocate Fred Wertheimer told the Post. "They will create the opportunity for the wealthiest Americans to buy — and federal officeholders to sell — government influence and decisions."
-Danny Biederman, Noel Brinkerhoff
To Learn More:
More Cash in More Party Pots? Senate Language Could Help Parties — and the Very Rich (by Russ Choma, OpenSecrets.org)
Omnibus Bill Allows Wealthy Donors To Give Even More to Political Parties (by Paul Blumenthal and Sam Stein, Huffington Post)
Party Fundraising Provision, Crafted In Secret, Could Shift Money Flow In Politics (by Matea Gold and Tom Hamburger, Washington Post)
Spending Deal Would Allow Wealthy Donors To Dramatically Increase Giving To National Parties (by Matea Gold, Washington Post)