Citizens United Decision Gave Republican Candidates in State Races 6% Better Chance of Winning
Wednesday, September 03, 2014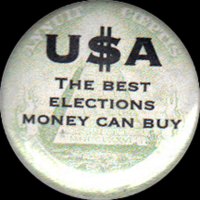 (graphic: Peacemonger.org
The 5-4 Citizens United Supreme Court ruling from four years ago has given Republicans a leg up on winning state legislative races, university researchers say.
Following the 2010 decision, corporations were allowed to spend unlimited sums of money on campaigns, giving them the opportunity to match, if not eclipse, the political influence of labor unions in elections, researchers Tilman Klumpp of the University of Alberta, Hugo Mialon of Emory University and Michael Williams of Competition Economics wrote in their paper. Twenty-two states had spending bans that were overturned by the ruling and it was these states that Klumpp, Mialon and Williams studied, comparing them to the 28 states that were not affected by Citizens United.
This important change in electoral fundraising and spending has produced better odds of Republican candidates winning seats in state legislatures, they concluded.
Overall, Citizens United has meant a 6% increase in the probability of GOP victories in statehouse contests across the country. In Michigan, Minnesota, Montana, North Carolina, Ohio and Tennessee, the bump has amounted to 10%. In Colorado, Iowa, Texas, Wisconsin and Wyoming, Republicans have had a 7% boost in their chances of winning.
-Noel Brinkerhoff
To Learn More:
Study: Citizens United Elected more Republicans (by Reid Wilson, Washington Post)
The Business of American Democracy: Citizens United, Independent Spending, and Elections (by Tilman Klumpp, Hugo M. Mialon and Michael A. Williams) (pdf)
Citizens United Ruling Gave more than $500 Million to 4 Consulting Firms (by Noel Brinkerhoff, AllGov)
40% of Outside Campaign Money was Made Possible by Supreme Court Ruling (by Noel Brinkerhoff, AllGov)