BP Contracts with Defense Dept. Surge Since Oil Spill
Wednesday, February 29, 2012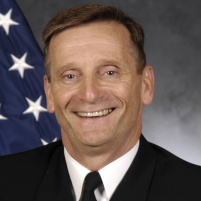 Vice Admiral Mark Harnitchek
Despite its oil well causing the worst spill in U.S. history, oil giant BP has enjoyed increased business with the
Department of Defense
.
Sales of BP fuel to the Pentagon rose 33%, from $1.02 billion in 2010—when the Gulf of Mexico became fouled with oil—to $1.35 billion in 2011.
BP is by far and away the No. 1 supplier of fuel to the military, receiving 49% more in defense contracts than the No. 2 supplier,
Valero Energy Corp
.
Representative Edward Markey (D-Massachusetts), the top Democrat on the
House Natural Resources Committee
, told Bloomberg "our military shouldn't renew lucrative contracts" for the company, not "when BP still owes billions of dollars in possible fines and penalties for their spill in the Gulf of Mexico."
Defense contract decisions are made by the
Defense Logistics Agency
, which has been headed since November 2011 by Vice Admiral Mark D. Harnitchek.
According to a
database
kept by the Project on Government Oversight (POGO), since 2000 BP has paid more than $2.6 billion in fines, penalties and settlements as a result of 58 cases of misconduct that have included environmental and labor violations, contract fraud and antitrust activities in the United States. It currently has 19 separate misconduct cases pending, most of them dealing with the Gulf of Mexico oil rig explosion and oil spill.
-Noel Brinkerhoff, David Wallechinsky
To Learn More:
Some Government Contractors are Too Big to be Banned (by Noel Brinkerhoff and David Wallechinsky, AllGov)