Boeing Overcharges Pentagon Again, by $13.7 Million…Including $2,286 for a $10 Spare Part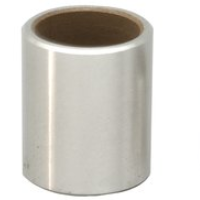 Aluminum Sleeve Bearing (photo: Fastenal)
The nation's second largest defense contractor has again overcharged the Department of Defense for spare parts.
Boeing billed the Pentagon for $13.7 million more than it should have, according to the Defense Logistics Agency (DLA), including $2,286 for an aluminum bearing sleeve that really only costs $10 apiece. The Pentagon purchased 573 of the sleeves to be used on landing-gear doors, resulting in an overcharge of $1.3 million just for that particular device.
DLA is now seeking a refund from the company for $13.7 million.
The agency is still trying to collect money from Boeing for an overcharge in 2011 that also totaled about $13 million. So far, the company has only made good on $2.67 million owed for parts provided to an Army depot in Corpus Christi, Texas.
-Noel Brinkerhoff
To Learn More:
Boeing Told to Repay After Charging $2,286 for $10 Part (by Tony Capaccio, Bloomberg)
New Details Emerge in Boeing Spare Parts Overbilling (by Neil Gordon, Project On Government Oversight)
Boeing Charged Army $1,679 for Helicopter Part Worth $7.71 (by Noel Brinkerhoff and David Wallechinsky, AllGov)
Pentagon Auditor Allowed Boeing to Keep $271 Million Owed the Government (by Noel Brinkerhoff, AllGov)