Black Unemployment Rate is Twice that of White and Asian Unemployment Rates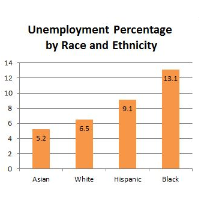 (graphic: Steve Straehley, AllGov)
Nationally, the unemployment rate in the United States has fallen considerably from its peak during the Great Recession, but despite the improvement, the jobless rate for African-Americans is still nearly twice what it is for some groups.
For blacks, the jobless rate in 2013 was twice that of whites, and even greater compared to that of Asian-Americans, according to a report from the Bureau of Labor Statistics (BLS). The unemployment rate for African-Americans was 13.1%; for whites, it was 6.5%. American Indians and Alaska Natives also had a high jobless rate of 12.8%, while the unemployment rate among Hispanics was 9.1%. Asians had the lowest unemployment rate at 5.2%.
Some of the African-American jobless rate can be attributed government cutbacks leading to fewer jobs in the public sector, where blacks are less likely to encounter discriminatory hiring practices.
When African-Americans and Hispanic-Americans do find jobs, they're generally paid less than others in similar positions. According to the BLS report, "the median usual weekly earnings of Asian men ($1,540) and white men ($1,359) working full time in management, professional, and related occupations (the highest paying major occupation group) were well above the earnings of Hispanic men ($1,082) and black men ($1,002) in the same occupation group."
-Noel Brinkerhoff, Steve Straehley
To Learn More:
Labor Force Characteristics by Race and Ethnicity, 2013 (Bureau of Labor Statistics) (pdf)
As National Unemployment Rate Stabilizes, Rate for African-Americans Rises Again (by Matt Bewig, AllGov)
10% Unemployment Considered a Crisis…But for Black Workers, It's Normal (by David Wallechinsky and Noel Brinkerhoff, AllGov)