Big Banks Fined Billions in Foreign Currency Scandal
Thursday, November 13, 2014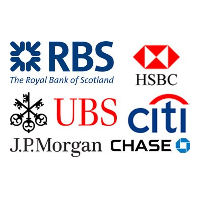 (graphic: Steve Straehley, AllGov)
In what seemed like a case of tag-team punishment, banking regulators this week on both sides of the Atlantic fined some of the world's largest financial institutions billions of dollars for manipulating foreign currency exchanges.
The government actions involved agencies in the U.S., Britain and Switzerland handing out combined fines of $4.25 billion to major international banks caught rigging the $5.3 trillion-a-day world of foreign exchange.
The biggest penalty by a single regulator came out of the Financial Conduct Authority of Britain, which hit UBS, HSBC, the Royal Bank of Scotland (RBS), JPMorgan Chase and Citigroup with more than $1.7 billion in fines.
"The settlement is large by European standards, and it is a record for the British financial authority," Chad Bray and Jenny Anderson wrote at The New York Times.
In Washington, two federal agencies unloaded on top banks as well.
The Commodity Futures Trading Commission announced $1.4 billion in penalties against Citigroup, HSBC, JPMorgan, RBS and UBS. The Office of the Comptroller of the Currency hit Citigroup, JPMorgan and Bank of America with $950 million more in fines.
Lastly, Swiss regulators fined UBS about $138 million. UBS was hit harder than any other institution, with a total of $799.2 million in fines from the three nations.
Traders from the banks banded to share private information about clients, including pension funds, hedge funds and asset management firms. This allowed the traders to manipulate the market, benefitting their trading strategies and causing clients to lose money, according to the Times.
-Noel Brinkerhoff
To Learn More:
British and U.S. Regulators Fine Big Banks $3.16 Billion in Foreign Exchange Scandal (by Chad Bray and Jenny Anderson, New York Times)
CFTC Ready to Hammer Banks in Foreign-Exchange Probes (by Erika Kelton, Forbes)
World's Biggest Banks in Fresh Crosshairs of U.S. Justice Department…But Will Anyone Go to Jail? (by Noel Brinkerhoff, AllGov)