Banks Say "Thanks for the Bailout," Now We'll Park our Profits in Overseas Tax Havens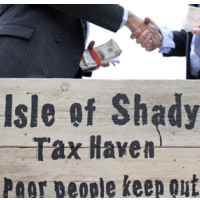 (photo: Justin Tallis, AFP/Getty Images)
Giant financial institutions that benefitted from federal bailouts during the depths of the recession have repaid the American people's largesse by hiding profits overseas to avoid paying their fair share of taxes.
According to a report (pdf) commissioned by Senator Bernie Sanders (I-Vermont), four big banks—Citigroup, Goldman Sachs, Bank of America and JPMorgan Chase—which received massive amounts of money and loan guarantees to keep them afloat in the wake of the financial crisis, park large amounts of money in tax haven nations.
Citigroup got the most help of the four in the bailout, $2.5 trillion. That company has at least 427 offshore divisions where it squirrels away profits out of reach of the American people. Those funds, as of early 2014, totaled $43.8 billion, which would mean $11.7 billion in tax revenue for the United States if they were brought to this country. Citigroup CEO Michael Corbat was rewarded with $1.5 million in salary, $4.5 million in bonuses and $8 million in stock for his work in 2014.
Bank of America received a $1.3 trillion bailout from the American people. In 2014, it had $17 billion in profits stashed offshore, which would bring $4.3 billion in funding for education, infrastructure and other badly needed projects in the United States. Bank of America CEO Brian Moynihan made $1.5 million in salary, $13 million in bonuses and $11.5 million in stock in 2014.
JPMorgan Chase got a $416 billion bailout from American taxpayers. That bank has hidden $28.5 billion overseas which would bring in $6.4 billion to the U.S. Treasury. Chase CEO Jamie Dimon was paid $1.5 million in salary, $7.4 million in bonuses and $11.1 million in company stock in 2014.
Goldman Sachs was the recipient of $814 billion in virtually zero-interest loans, as well as $10 billion from the government. It's holding $22.5 billion offshore that would bring $4.1 billion back to the American people. Goldman CEO Lloyd Blankfein made $2 million in salary, $7.33 million in bonuses and $7.33 million in stock in 2014.
Of course, banks aren't the only companies taking advantage of tax havens. Apple, for instance, famously worked it out so two of its subsidiaries have no home country to which to pay taxes. But then Apple didn't come hat-in-hand begging the American people not to let it go under.
-Steve Straehley
To Learn More:
Legalized Tax Fraud: How Top U.S. Corporations Continue to Profit Through Offshore Tax Havens (by Senator Bernie Sanders, U.S. Senate) (pdf)
Offshore Shell Games (U.S. PIRG) (pdf)
The Bailouts 4 Years Later: Were They Worthwhile Investments? (by Matt Bewig, AllGov)