As Political Advertising Follows Public from TV to Internet, Transparency Suffers
Tuesday, November 17, 2015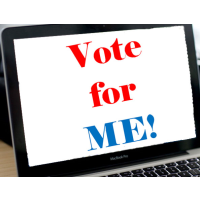 Photo illustration: Steve Straehley/AllGov
Political campaigns are spending more money on online advertising, both because more Americans are turning to the Internet for entertainment and news and because it can be more cost effective than running television ads. But the shift to digital makes it more difficult to know who is behind the messages.
As the Sunlight Foundation pointed out, online advertising can generate a lot more bang for the buck. Senator John Cornyn (R-Texas) reached a million voters at a cost of just 21 cents each, or $210,000 total. That certainly beats spending millions of dollars for TV commercials in major television markets such as Houston or Dallas.
Here's a look at online spending by some 2016 presidential candidates:
· Bernie Sanders, who's seeking the Democratic nomination, spent $2.5 million on digital in the third quarter.
· Republican Ben Carson paid a company specializing in digital advertising $1 million.
· Rand Paul spent $510,615 with Facebook and a digital media company.
According to Melissa Yeager at the Sunlight Foundation, Facebook claims campaigns can target 200 voters for every dollar spent. The same dollar would buy only two pieces of direct mail.
But TV advertising offers more transparency about who's paying how much for commercials. "When it comes to television commercials, you can track who's behind the advertisements in two ways," Yeager wrote. "First, committees present them on their campaign finance reports and super PAC filings. In addition, television and radio stations are required to file information about political advertisements with the Federal Communications Commission, including who placed the ad and the amount of money. They also are required to have a disclaimer that discloses who paid for it."
Online campaign ads, however, can be tracked only on campaign finance reports, Yeager added. In some cases, candidates or super PACs list whom they hired to place online ads, and little or nothing else.
Rules for Internet ads are so lax, she writes, viral videos placed on YouTube or other content distributed through social media don't require disclaimers.
Then, there are "issue ads" that don't advocate for or against a particular candidate. Rules allow spending on online issue ads to be disclosed in a political committee's disbursements that get filed weeks or months after the fact and lack information about the candidate and race targeted and type of expenditure, according to Yeager.
-Noel Brinkerhoff
To Learn More:
As Campaign Ads Move Online, the Public Gets Left in the Dark (by Melissa Yeager, Sunlight Foundation)
Political Campaigns find that Online Advertising Space—Just Like TV and Print—has Its Limits (by Noel Brinkerhoff, AllGov)
TV Stations Must Now Post Online Political Ad Contracts (by Noel Brinkerhoff, AllGov)