As Number of U.S. Homes for Sale Shrinks, Many Homeowners Receive Big Offers to Sell
Tuesday, September 06, 2016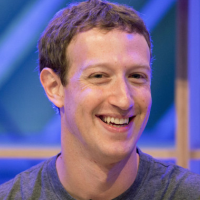 Mark Zuckerberg (photo: Getty Images)
By David Streitfeld, New York Times
REDWOOD CITY, Calif. — Swell-looking home you've got here. Ever think about selling it? How about to me, right now?
That is increasingly the approach the house-hungry are using in Silicon Valley, where the number of homes on the market is so small that would-be buyers are driven to desperation. Their solution: seek out homes that are, in theory at least, not for sale.
Sue Zweig grew up in this working-class community, back when people said it was for the newly wed and the nearly dead. Not long ago, when she was out walking her dog, she began to realize things were different. A woman pulled over, asked about houses for sale in the neighborhood and ended up spending 45 minutes poking around Zweig's living room and kitchen.
Her four-bedroom house was not on the market then, and it was not on the market a year or so later when another eager buyer showed up. This time, Zweig, a nurse, and her husband, Steve Zweig, made a deal for $1.375 million, a seven-figure profit over what they had paid in 1987. They moved out of the house last year.
Buyers in Silicon Valley must be aggressive and innovative as well as well-heeled, especially as housing inventory here hits its lowest point in at least 20 years. In San Mateo County, which includes Redwood City, the number of homes for sale in August was 1,184. That is a drop of 62 percent from a decade ago, even as the population increased more than 70,000.
It is a microcosm of a growing national problem. The number of homes on the market in the United States has fallen on a year-over-year basis for the last 14 months, the National Association of Realtors says. When adjusted for population, the inventory of homes for sale is the lowest it has been since modern records started being kept in 1982.
Flushing out people before they are officially ready to sell — by a few weeks or a few years — has obvious benefits for buyers, but sellers say they can profit, too. It streamlines an expensive process that traditionally consumes many months.
"We probably left money on the table," said Zweig, a retired digital printer. "But we didn't have to list it, didn't have to do open houses, didn't have to stage it."
There is a long history among Silicon Valley's elite of buying houses that are not for sale. Mark Zuckerberg, the billionaire chief executive of Facebook, found a place he liked near San Francisco's Mission District in 2012 and paid the owner at least twice what it was worth.
People of much more modest means are now echoing his tactics, even if they cannot extend his lavish terms.
"Technology is making people impatient," said Steve Korn, a retired forklift facility manager who is now a real estate agent here. "No one wants a six-month slog anymore to get a new place or move on from an old place."
Technology is also fueling this boom in a more direct way. Tech companies, especially Facebook and Google, have plans to build new campuses and hire even more workers.
That means even places like Redwood City, a longtime also-ran to neighbors like Atherton, Menlo Park and Palo Alto, are now hot. That's a windfall for longtime residents like the Zweigs, who moved to a coastal town 220 miles south and built a new house.
Prices in their old Redwood City development have continued to soar, prompting some wishful dreams among those who remain.
Michele and Mike Sweeney put a "make me move" notice on their 2,060-square-foot house last year. That is a feature that the online real estate company Zillow offers to let owners solicit interest. Their demand was $1.9 million, significantly more than their house was worth.
"We used to say around here, 'If it hits a million, we're all selling,'" said Michele Sweeney, who works for a hospital. "That was not too long ago."
They were flooded with inquiries but did not make a deal. Now, according to Zillow, their house is rapidly approaching the price they wanted. "I asked my son, 'Do you want to finish high school in Italy?'" Michele Sweeney said.
To entice people like the Sweeneys, who might sell under the right circumstances, some buyers and their agents are resorting to old-fashioned technologies: letters and phone calls.
"I live between an Apple person and a Google person. Real estate is really crazy around here," said Jim Fenton, a tech consultant in Los Altos. "This morning I was cold-called by an agent who said he had clients who wanted to move into my neighborhood, and did I want to sell?" Fenton said he had no intention of going anywhere.
Colleen Foraker, a Sotheby's agent in Silicon Valley, prefers personal letters. "It acknowledges the formality and the importance of the request to a perfect stranger," she said.
Her clients might have a particular neighborhood in mind, and perhaps a certain layout or yard size. Foraker sends letters to about 100 owners, describing her clients and exactly what they want. "They are looking for a spacious, newer, move-in-ready home that will accommodate energetic children, sports activities, hobbies and two large family dogs," one letter said.
"In some parts of the country, you move into a house until your children are gone or you retire," Foraker said. "People here look at their homes more as an investment. They think, 'If the right number comes along, I would think about what I would do next.'"
Even in Silicon Valley, letter campaigns are still the exception rather than the rule. Foraker has done about eight in the last few years. Two succeeded. The more recent deal involved a $3 million house.
"The odds are low, but this is not a community that likes to wait," said Michael Dreyfus, the owner of the Sotheby's office in Palo Alto.
At least one real estate company thinks letters have an application far beyond Silicon Valley.
"We decided low inventory is also a permanent condition in Denver, San Francisco, Austin, Boston, Seattle," said Glenn Kelman, chief executive of Redfin, an online real estate company based in Seattle. With more wealth in those areas causing an influx of people, along with low interest rates, "there's no place for them all to live," he said.
To shake inventory loose for its clients, Redfin will start this month to use letters to reach out to potential sellers in Denver. Local agents will work with buyers to craft targeted queries, just as Foraker does in Silicon Valley.
Kelman, who says the goal is to approach 10,000 potential sellers, is frank about this being an experiment. Perhaps, as often happens during booms, the sellers might get an inflated sense of their property's worth.
One Denver buyer's recent experience illustrated both the promise and the peril of these new solicitations. Charles Bogenberger, a software marketing manager, wanted to buy a condominium in the complex next to his office. His Redfin agent sent letters to the five people who owned units with four bedrooms, which was the floor plan Bogenberger wanted.
Two responded. One said he would sell for $560,000 — far more than Bogenberger could pay. The other unit had been on the market but was now going to be rented. Those owners wanted $400,000. The deal will close this month.
"Without the letters, I might still be a renter," Bogenberger said. And if the sellers, like their neighbors, had demanded too much? "I might still be a renter."
To Learn More:
Single-Family Home Sales Hit 15-Year Low (by Noel Brinkerhoff, AllGov)