After Cutting Taxes, Republican-Run State Governments Struggle with Cutting Services or Raising Taxes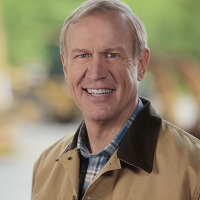 Illinois Gov. Bruce Rauner (R)
The promise of conservative tax policies—that tax cuts would produce more revenue for states because more people would be working—has not panned out as some Republican politicians had hoped, leaving them confronted with state budget gaps and tough choices for closing them.
Kansas has garnered a lot of attention because Republican Governor Sam Brownback's ambitious tax cuts from 2012 and 2013 produced a $400 million budget hole. Centrist Republicans have joined Democrats in the legislature to discuss raising taxes to help fix the mess and even Brownback has suggested some tax increases. Those taxes would, however, disproportionately burden the poor. The governor still wants to phase in more income tax cuts.
Other GOP-led states are in similar predicaments. "While some states led by Democrats are having budget problems, too, there are far more states where Republicans control both the legislature and the governor's office: 23, compared with seven states controlled by Democrats," Julie Bosman wrote at The New York Times. As such, "some of the bitterest budget fights this year pit conservative Republicans against centrist Republicans over how to cut spending or raise taxes," she added.
Tracy Gordon, a senior fellow at the Urban-Brookings Tax Policy Center, told the Times: "A lot of governors have cut their taxes with the hopes that that would bring increased economic activity and they could postpone painful decisions about spending reductions. But those increases in economic activity haven't come to pass."
Illinois has a $3 billion shortfall, and with it, dire warnings from Republican Governor Bruce Rauner about possibility of making program cuts to balance that budget, again on the backs of those who can least afford it. The elderly and working poor would see services cut and infrastructure projects would be postponed.
Louisiana features a fight between presidential hopeful Governor Bobby Jindal and his fellow Republicans in the statehouse over eliminating a $1.6 billion gap. Jindal says he'll veto any proposal that raises taxes.
-Noel Brinkerhoff
To Learn More:
States Confront Wide Budget Gaps Even After Years of Recovery (by Julie Bosman, New York Times)
Kansas Republicans, Faced with Massive Deficit, Consider Raising Taxes (by Noel Brinkerhoff, AllGov)
Some Governors want to Cut Taxes for the Rich and Increase Taxes for the Poor (by Noel Brinkerhoff and Danny Biederman, AllGov)
Louisiana Gov. Jindal Proposes Raising Taxes for 80% of State's Citizens (by Matt Bewig, AllGov)
Report Reveals Kansas Gov. Brownback's Tax Policies will put His State $1 Billion in Debt…6 Days after He Won Re-Election (by Noel Brinkerhoff and Steve Straehley, AllGov)