80% of Outside Spending on House of Representative Elections Goes to Just 25 Races out of 435
Monday, November 03, 2014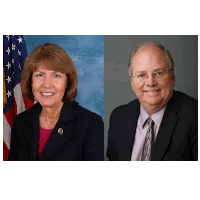 Ann Kirkpatrick and Andy Tobin
It's a measure of how House of Representatives districts have been drawn to ensure safe seats that only 25 races in this week's election account for 80% of the outside spending in House races.
The race in Arizona's first district wins the battle of the big spenders with $10 million by outside groups, mainly on negative ads, spent in the race between Democrat Ann Kirkpatrick and Republican Andy Tobin, according to The New York Times. Next is the fight in California's seventh district, in which freshman Democrat Ami Bera faces former Republican congressman Doug Ose. More than $9.6 million has been spent there. Another Arizona race, in the second district, has Ron Barber, a Democratic incumbent, taking on Republican Martha McSally, a retired Air Force colonel. Outside interests have spent $9.5 million on that battle.
Most House districts that aren't competitive see little spending. In fact, 193 of them have less than $10,000 in outside spending. "It's very difficult–no matter how unpopular Congress is–to beat an incumbent," Meredith McGehee, policy director of the Campaign Legal Center in Washington, told McClatchy. "The re-election rates top 90 percent even when Congress has an approval rate in the low teens."
Most outside money is spent on television ads, with a bit going to other outreach efforts, such as mailers.
-Steve Straehley
To Learn More
Outside Spending Shows How Few of the House Races Are Competitive (by Derek Willis, New York Times)
In Races For U.S. House, Florida Has Some Big Spenders (by Chris Adams, McClatchy)
2014 House and Senate Campaign Finance (Federal Election Commission)